My Writing Spot
Write simply anywhere
My Writing Spot provides a simple, uncluttered writing workspace. However, uncluttered doesn't mean feature-poor. Whether you're writing a novel or jotting down quick notes, all the essential features are there: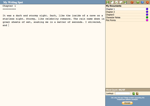 (click to enlarge)
Autosave
Word Count
Dictionary/Thesaurus lookup
Document Groups
Send to Email
Download to Computer
Read more about these features in our User's Guide. Read our FAQ.
Companion applications to My Writing Spot are available for:
iPad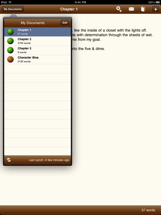 iPhone/iPod touch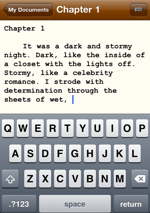 Android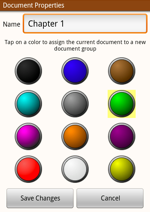 My Writing Spot was recently featured in the book "Incredible iPad Apps for Dummies."
I created this application because I like to write. I used to lug my laptop into work so that I could work on my novel on my lunch hour, but that was a hassle. I tried keeping my manuscript files on a thumb drive, but then I had to worry about which file was the latest, and more than once I inadvertently overwrote a newer document with an older one.
When I write, I want to think about my plot and my characters, not my writing software. The technology should just get out of the way and allow me to focus on my novel.
My Writing Spot solves these problems for me. Now I can get to my writing from any computer with a browser and an Internet connection. And when I write, the uncluttered writing environment lets me focus on my novel.
My Writing Spot runs on Google's App Engine infrastructure, so you know it's reliable and secure. Your data isn't going anywhere and it's your data - no one else has access to it. And for added peace of mind, you can back up your docs by downloading them to your local hard drive, or sending a copy to your email account with the Send to Email feature.